Raindrop Rally 2018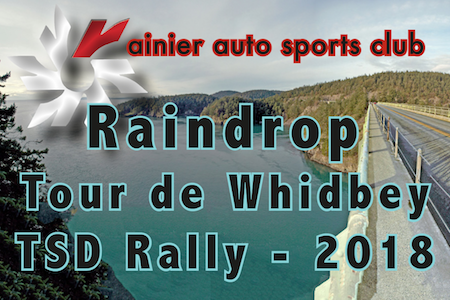 Raindrop Rally 2018 is a leisurely paced touring TSD event with fine driving roads, minimum traffic, and wonderful scenery. The rally is geared toward the novice entrant with no traps, and mileages for every instruction, but precise timekeeping will still be required to score well. Awards will be given for the following classes: Unlimited, Equipped, SOP, Novice, and Vintage. The rally will start at 10:30am and last 4-5 hours. It is approximately 145 miles long on all-paved roads suitable for any automobile.
Date: Sunday, April 29, 2018.
Start Location: Mobil Station, 1 S Main St, Coupeville, WA 98239.
Finish Location: The Farmhouse Restaurant, 13724 Laconner Whitney Road, Mt Vernon WA 98273. See below for dining information.
Rallymaster: Dolores & Richard Ranhofer
Registrar: Eric Horst Contact Eric for questions about your registration or to make any changes after you register.
Entry Fee:$50 per car pre-paid confirmed entry, $55 per car if paid at event.
Registration:

General Instructions: Raindrop will use the Rainier Auto Sports Club Touring General Instructions (PDF format) available in Rally Reference.
Dining Guide: We encourage participants and workers to bring a lunch or mid-day snacks from home. Time is allotted for a break; however, lunch spots are limited and timely service may be difficult. If in the excitement of getting ready for the rally you forget to bring a lunch, there are options available before the start of the rally:
The Goose, 14485 State Road 525, Langley, Whidbey Island - a grocery store with a deli counter
Coupeville Country Store and Mobile Station - sandwiches are available and, this is the start of the Odometer check on the corner of S Main Street and Hwy 20.
Raindrop - Tour de Whidbey will end at the Farmhouse Restaurant in Mt Vernon. There will be a Burger Bar set up for the participants and workers that includes an Orchard Salad . Orchard Salad has Washington apples, raisins, rotisserie turkey, pecans, bacon, bleu cheese crumbles and crisp romaine tossed in a creamy bacon dressing; burger come with all the trimmings; chips, soft drinks and cookies are included. The price is $20 including tax per person. Please let us know if you have any dietary issues, vegetarian, vegan, etc can be accommodated.
The Competition: review the Entry List