Raindrop Rally 2019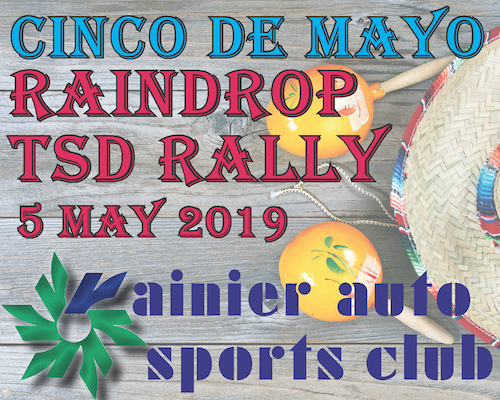 Raindrop Rally 2019 is a leisurely paced touring TSD event with fine driving roads, minimum traffic, and wonderful scenery. The rally is geared toward the novice entrant with no traps, and mileages for every instruction, but precise timekeeping will still be required to score well. Awards will be given for the following classes: Unlimited, Equipped, SOP, Novice, and Vintage. The rally will start at 9:30am and last 6 hours. It is approximately 188 miles long on all-paved roads suitable for any automobile.
Date: Sunday, May 5th, 2019.
Start Location: Lacey Forza Bistro & Event Center - 130 Marvin Rd SE #130, Lacey, WA 98503. 360-338-0925.
On-site registration opens at 8 a.m., First Car Out is 9:30.
Finish Location: Puerto Vallarta Restaurant - 1400 Galaxy Dr NE, Lacey, WA 98516. 360-412-5402.
First Car should arrive at approximately 3:40.
Rallymaster: Dolores & Richard Ranhofer
Registrar: Eric Horst Contact Eric for questions about your registration or to make any changes after you register.
Entry Fee: $50 per car pre-paid confirmed entry, $55 per car if paid at the event.
Classes: Unlimited, Equipped, Seat-Of-Pants, Novice, Vintage.
General Instructions: Raindrop will use the Rainier Auto Sports Club Touring General Instructions (PDF format) available in Rally Reference along with Supplemental General Instructions specific to this event. Please be familiar with the definitions of your selected class. Supplemental Instructions may change at any time until provisional start order is posted on May 4.
Registration:

The Competition: review the Entry List