Nor'wester Auto Rally, 1969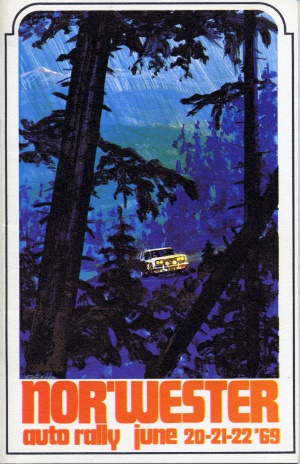 Date: June 20-22, 1969
Start Location: Bellevue Square Shopping Center, Bellevue, WA
Winners:
Equipped - Steve Richards and Brian Dearmin of Bellevue, Washington.
Unequipped - Hal Dittman and John Kravitz of Seattle, Washington.
Officials:
RallyMaster: Jack Deno
Rally Manager: Bob Brooks
Course Marshalls: Bob and Gale Sherry
Checkpoint Committee: C.R. Hall
Registration: Mr. & Mrs. Stan Heisley
Scoring Committee: Ron Johnson
Publications: Terry Shannon
Communications: Seattle Westerners, Gordon Coale, Coordinator
Summary: The rally was again held in the middle of June and was headquartered at the Crystal Mountain ski lodge in the Cascade Mountains. Entry was at 42, and the prize fund $800. First press car and third in class was Jean Calvin of Sports Car Graphic magazine.
Other Info:
Scanned versions of the Cover, Page 1, and Pages 2-3 of the Nor'wester event booklet. (Scans courtesy of Vic Alvarez.)